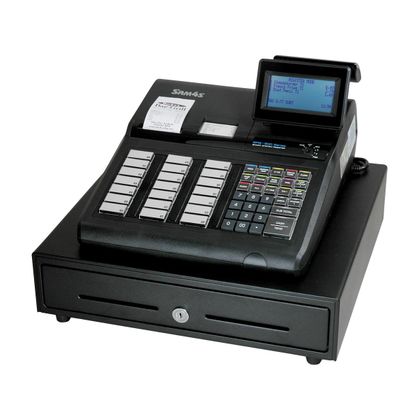 SAM4s SPS-345 Cash Register
KAL-TECH will beat competitor's pricing!
Call Now For Help: (888)-211-6265
Product Description
The SAM4s SPS-345 cash register is setting a new standard for the simple retail cash register. With this model we have everything we liked about the wildly successful ER-650R with some great additional features. The first difference you will see of course is the color, rather then the traditional beige the 345 comes in black which looks much nicer. The color is not the only thing that has changed of course. The two biggest features that improved this model over the 650R is a two station printer and an SD card port. The two station printer means this register has a receipt printer which of course can be set to print on demand. The journal tape prints and is stored in the register on a take up spool. If you have never used a register with a journal before you will find it indispensable when you are tracking down an over ring or auditing sales of a cashier. The SD card port brings data portability to the SAM4s line. Now you no longer need a software program in order to back up your data, simply insert an inexpensive SD card copy your register data that you may have spent hours and hours building. There are other innovative features of the SPS-345 as well like enough on-board memory to accommodate a large C-Store or liquor store database. Free software for programming, multiple serial ports, and media slots on the cash drawer complete the improvements from the 650R.
There are also many value added features that can be added to this machine to make the most of your check out process. Customers will be able to pay with credit card or gift cards directly at the register, which dramatically increases check our speed and accuracy. This is accomplished by adding a Datacap and Pin Pad to the register. With most merchant processors you can offer your own gift cards, which can make you a lot more profit. The big guys have been ringing gift card programs for a very long time, now you can participate too. Another very useful add on feature is using text overlay from this machine to your DVR system. Just imagine being able to see what your cashiers are actually ringing up and what they are really selling. No more can they ring up a candy bar while handing their buddy a pack of cigarettes. This feature allows you to close the loophole on the age-old problem of cashier's sweet hearting, possibly costing you thousands of dollars maybe more.
This register works very well for the do it your selfer or we can program it for you at a very affordable price. Whether you are using bar code scanning or ringing in prices into open groups on the keyboard this model is very easy to use and take reports from. If you have any questions about this register system please give us a call at 1-888-211-6265
Here are some additional features


Adjustable 8-Line Alpha-Numeric Liquid Crystal Display
Two Standard RS-232C Ports Two Optional Serial Ports Compatible with the Datacap Transerver or Sterling SmartECR Credit Card interface/pin pad.
Reliable High-Speed Thermal Printer Drop-and-Print Paper Loading Lower Total Cost of Ownership vs. Impact Printer
Prints User Defined Graphic Logos, Coupons or Advertising Messages
SD Card - Save/Load, Update, Archive
Optional UPC Scanning
Firmware based on the ER-650, ER-650R
FREE Programming PC Utility with purchase. Program and save data from a PC (cable required)


The SAM4s SPS-345 Register has a High Speed Thermal Printer with Graphic Logo Capabilities. Customize you receipt to stop return merchandise fraud and more importantly to tell your customers thanks and what is happening in your store like upcoming sales.
When you Integrate Credit Cards directly to the SAM4s SPS-345 you keep more profit and plug leaks where you have been losing money. Call us to find out how to get a Free or Low Cost Credit Card Interface. This SAM4s cash register can integrate with most processors in the United States for swiped transactions or EMV chipped cards. Gift cards and EBT are also available with most processors. Call us at 888-211-6265 for the details.
This software enables you to program and take reports on your SAM4s SPS-345 cash register from a computer. This feature is great for when you are managing a big UPC database or PLU's. The SPS-345 is pretty simple to program already but combine the software and it makes it simpler.
Standard Warranty and Extended Warranty Options for the SPS-345 register The standard warranty for this model is a Six-month depot warranty. With a depot warranty you pay for the shipping back to us for repair and we pay for shipping of the machine back to you. Every attempt is made to resolve an issue via phone before shipping a machine in for repair. Warranty periods do not include a loaner unit, however often loaner machines are available at additional expense. If you would like a longer depot warranty period, you may purchase extended depot warranties out to 54 months. You also have the option to upgrade to an overnight exchange and extend the time period. If you select an overnight exchange warranty, we will overnight you a replacement register at our expense as well as paying to ship the broken machine back. You can purchase an Overnight Exchange Warranty out to 5 years. Overnight exchanges do not include Saturday deliveries, so as an example if you request an exchange on a Friday you will receive the replacement on Monday. Replacement request must be received in our office by 11am PST or the machine will ship out the next business day.
SAM4s SPS-345 Downloads
Click here to download the SAM4s SPS-345 Operating and programming manual