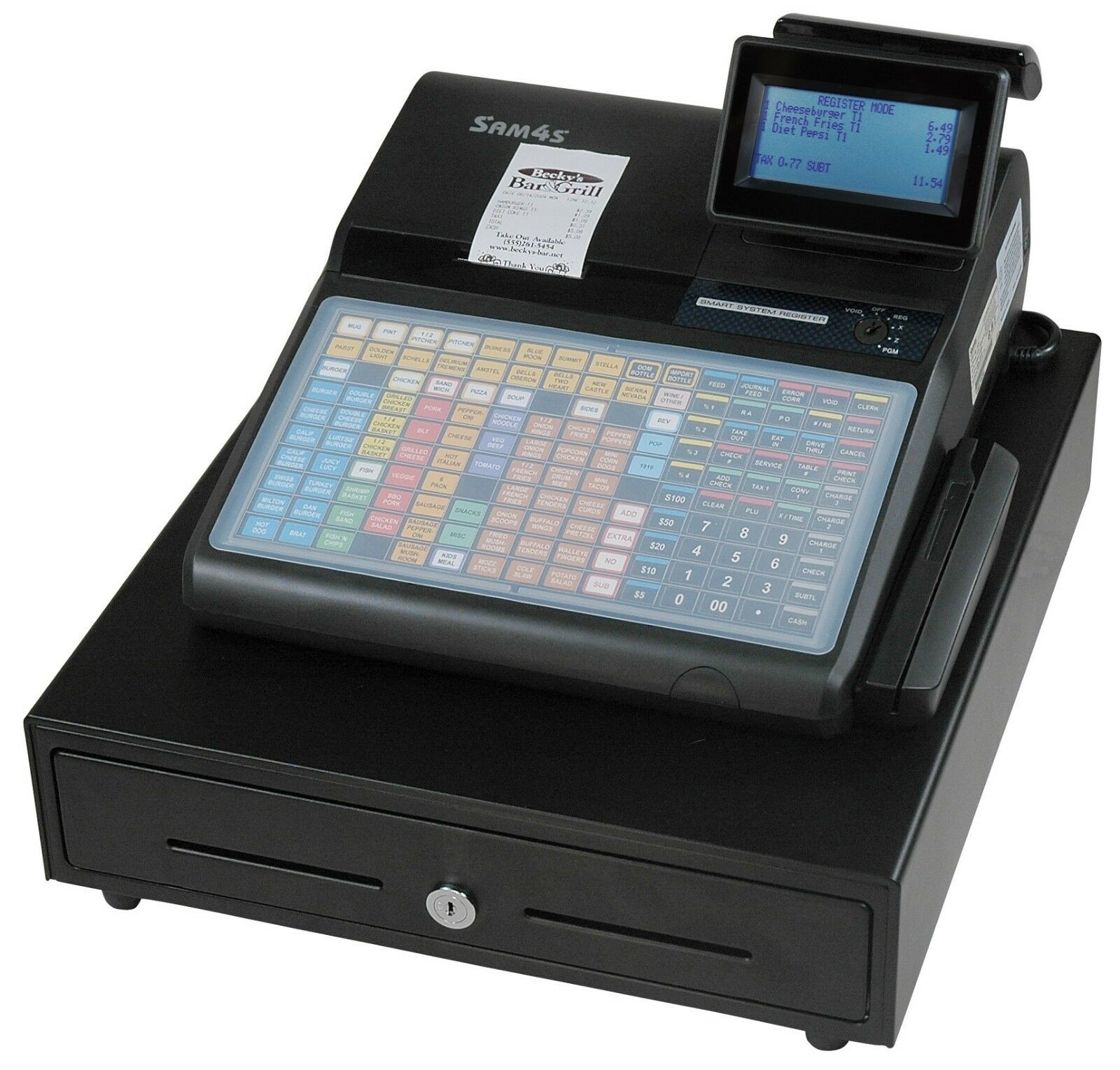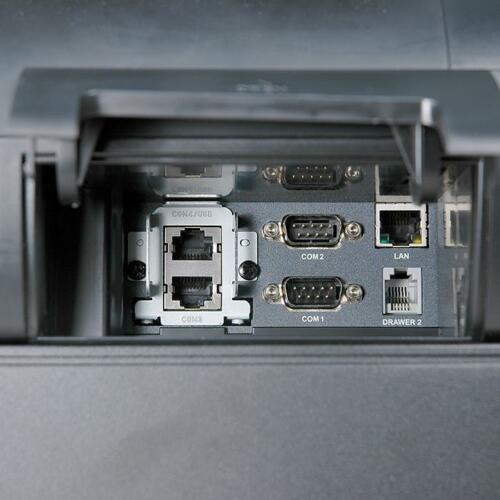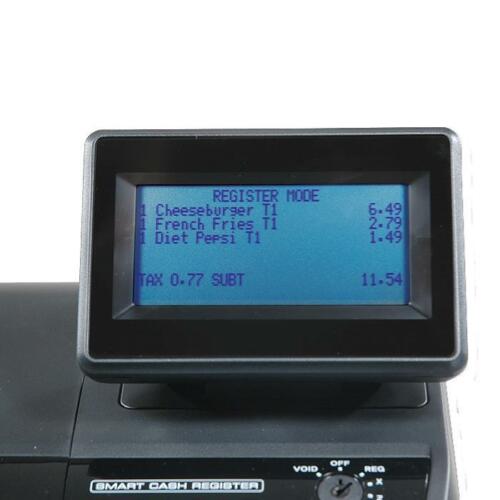 SAM4s SPS-320 Cash Register
KAL-TECH will beat competitor's pricing!
Call Now For Help: (888)-211-6265
Product Description
The SAM4s SPS-320 is a restaurant cash register. This model is well suited for quick service establishments as well as bars, taverns and clubs. Wherever you require a machine that is fast and simple this one will work. This is one of three models in the SPS-300 series, each with their own unique features. This model features the large flat keyboard for food service and a single receipt tape. Models with single printers have become very popular and common. If you are in need of a register with both a receipt and live journal tape then you need to look at Model SPS-340 which is nearly the same with the exception of having two printers allowing a live audit tape.
This model has an electronic audit trail known as an electronic journal however it is printed to memory rather than live. Should you require the journal entires you must print them out on demand. This has both pros and cons. The Pros are you don't have to have a second roll of paper, single printer machines cost less then two printer models. The downside is when you need a journal printout you must print on demand and while it is easy unless you perform this function often you will need to look up the feature. Another downside is that the electronic journal relies on available memory and the entries you require may have been over written. This can be avoided by allocating the memory in advance to optimise the space available for journal.
One of the reasons this machine is so popular is because of the eight line lcd display. This display makes the everyday task seem much easier, such as programming and operating. Cashiers have an easier time ensuring they have registered the sale correctly because they can see numerous items on the display and have the ability to scroll up to confirm the rest.
To make your system complete you should consider interfacing the register directly to credit card payments which speeds up your lines while also increasing accuracy. Another benefit of interfacing is reducing the ability of clerks to commit credit card fraud. When the register is interfaced a clerk must ring in the sale before processing. One of the added benefits of direct interfacing to payments is the option to accept gift cards. Please fell free to call us directly at 1-800-863-2274 should you have any questions about this machine or any model we sell.
The SAM4s SPS-320 is also available with a receipt printer and a journal printer if you require both. Please visit SAM4s SPS-340 with receipt and journal printer
FREE Programming PC Utility with purchase. Program and save data from a PC (cable required)


The SAM4s SPS-320 Register Features a High Speed Thermal Printer with Graphic Logo Capabilities. This feature allows you to add your own company logo to the receipt tape, custom coupons or messages. When you add a customized image to your receipts you can ensure when a customer makes a return the item came from your store. We often hear about a merchant returning items bought elsewhere because they could not really tell if the item was originally purchased from their store.
Integrate Credit Card Payments with the SAM4s SPS-320. Call us to find out how to get a Free or Low Cost Credit Card Interface. The SAM4s is fully compatible with industry leading EMV credit card readers as well as swipe only. Accept standard cards, EMV cards, Gift Cards, Apple Pay, Android Pay and more. Call us at 800-863-2274 for the details.
Software allows you to program and take reports on your SAM4s SPS-320 from your computer. This is a wonderful feature especially when you are managing a large PLU or UPC file. The cash register is easy enough to program but adding the software just makes it easier when you have a lot of items to manage.
Standard Warranty and Extended Warranty Options The standard warranty for this model is a Six-month depot warranty. With a depot warranty you pay for the shipping back to us for repair and we pay for shipping of the machine back to you. Every attempt is made to resolve an issue via phone before shipping a machine in for repair. Warranty periods do not include a loaner unit, however often loaner machines are available at additional expense. If you would like a longer depot warranty period, you may purchase extended depot warranties out to 54 months. You also have the option to upgrade to an overnight exchange and extend the time period. If you select an overnight exchange warranty, we will overnight you a replacement register at our expense as well as paying to ship the broken machine back. You can purchase an Overnight Exchange Warranty out to 5 years. Overnight exchanges do not include Saturday deliveries, so as an example if you request an exchange on a Friday you will receive the replacement on Monday. Replacement request must be received in our office by 11am PST or the machine will ship out the next business day.
SAM4s SPS-320 Downloads
Click here to download the SAM4s SPS-320 Operating and programming manual