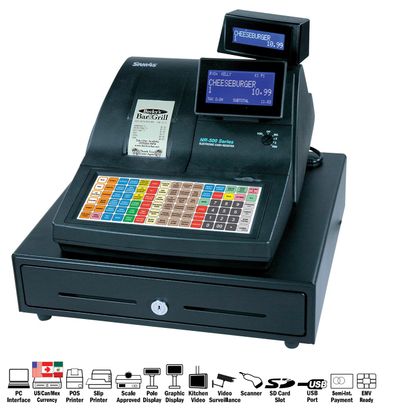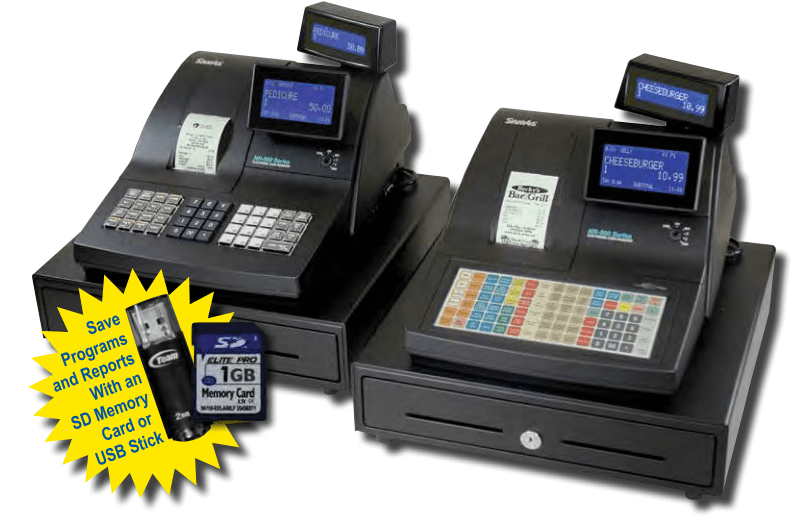 SAM4s NR-510 Cash Register Flat Keyboard
KAL-TECH will beat competitor's pricing!
Call Now For Help: (888)-211-6265
Product Description
The SAM4s NR-510 Flat Keyboard cash register is a simple to use robust cash register. This model is a great fit when you don't need an expensive POS system but still need something fast and secure. The NR-510 Flat Keyboard register makes it easier for your cashier to ring up sales accurately with the large flat keyboard. You can program each button to be an item. That way cashiers just locate the item and press it. Just that alone improves accuracy and speed, not to mention cashiers don't need to have all your prices memorized.
The SAM4s NR-510F was designed for food service however would work well in retail too. The target market for the SAM4s NR-510F is Cafeterias, Quick Service, Concessions, Ice Cream /Frozen Yogurt Stands, Hamburger, Sandwich, Pizza, Coffee, Bakery, Deli's, Bars and more.
The SAM4s NR-510F has many options available too to get even more efficiency at the cash register consider adding a pin pad connected directly to the register. That way when you have a sale at the register you simply press the Credit Card Payment button, and the register sends the sale amount to the pin pad for completion. After the card transaction is done the register completes the transaction by printing the credit card receipt and the sales receipt. This interface keeps cashiers from charging a credit card without ringing up the sale reducing opportunities for fraud not to mention increasing speed and accuracy.
Adding a kitchen printer to the SAM4s NR-510 also increases speed and accuracy. No longer will items come out of the kitchen unless they were first paid for at the register. Adding a kitchen printer could drastically lower your food cost by reducing theft, making certain items are paid for and reduces mistakes.
If you want to make certain this is the right cash register for you we invite you to call and speak to one of our experts. We know cash registers and how they can be properly implemented in a business to maximize security and efficiency so call us at 888-211-6265
Standard Warranty and Extended Warranty Options for the NR-510 Flat Keyboard Model The standard warranty for this model is a Six-month depot warranty. With a depot warranty you pay for the shipping back to us for repair and we pay for shipping of the machine back to you. Every attempt is made to resolve an issue via phone before shipping a machine in for repair. Warranty periods do not include a loaner unit, however often loaner machines are available at additional expense. If you would like a longer depot warranty period, you may purchase extended depot warranties out to 54 months. You also have the option to upgrade to an overnight exchange and extend the time period. If you select an overnight exchange warranty, we will overnight you a replacement register at our expense as well as paying to ship the broken machine back. You can purchase an Overnight Exchange Warranty out to 5 years. Overnight exchanges do not include Saturday deliveries, so as an example if you request an exchange on a Friday you will receive the replacement on Monday. Replacement request must be received in our office by 11am PST or the machine will ship out the next business day.