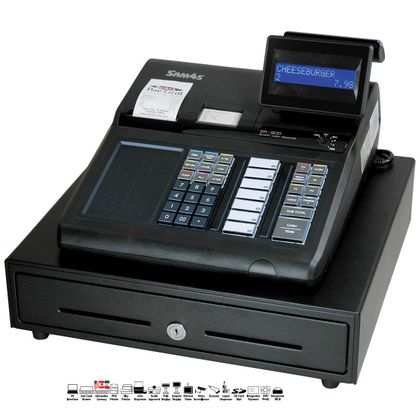 SAM4s ER-915 Cash Register
KAL-TECH will beat competitor's pricing!
Call Now For Help: (888)-211-6265
Product Description
The SAM4s ER-915 Cash Register is the newest member of the SAM4s' commercial grade line of cash registers The ER-915 is an entry level machine that has replaced the wildly popular SAM4s ER-5215M that was a staple for retail stores over the last decade. This register is reminiscent of the old work horse models from the past with the large double sized button keyboard and dual station printer. Unlike so many modern registers this one does include a journal printer too which is what really makes it a modern throwback!
The SAM4s ER-915 comes out of the box with seven keyboard buttons (groups/departments) which are expandable to fourteen. The design of this registers makes it perfect for the merchant that just wants to enter a price for an item and press the correct department button on the keyboard. This is one of the only entry level models that features both a receipt printer and a journal printer. The receipt printer can even print your graphic logo that could even be a special offer.
Here are just a few of the business types this cash register is perfect for:
Retail
Gift Shops
Convenience Stores
Bakery
Beer/Wine/Liquor
Specialty Food
Tobacco/Vape
Produce
Meat
Main Street Merchants
Many more.....
Give us a call at 888-211-6265 and we can help you decide if this is the right cash register for you or not.
Standard Warranty and Extended Warranty Options for the ER-915 Model The standard warranty for this model is a Six-month depot warranty. With a depot warranty you pay for the shipping back to us for repair and we pay for shipping of the machine back to you. Every attempt is made to resolve an issue via phone before shipping a machine in for repair. Warranty periods do not include a loaner unit, however often loaner machines are available at additional expense. If you would like a longer depot warranty period, you may purchase extended depot warranties out to 54 months. You also have the option to upgrade to an overnight exchange and extend the time period. If you select an overnight exchange warranty, we will overnight you a replacement register at our expense as well as paying to ship the broken machine back. You can purchase an Overnight Exchange Warranty out to 5 years. Overnight exchanges do not include Saturday deliveries, so as an example if you request an exchange on a Friday you will receive the replacement on Monday. Replacement request must be received in our office by 11am PST or the machine will ship out the next business day.