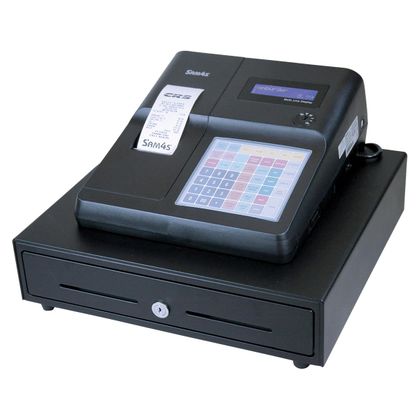 SAM4s ER-265EJ Cash Register
KAL-TECH will beat competitor's pricing!
Call Now For Help: (888)-211-6265
Product Description
The SAM4s ER-265EJ is a compact low-cost cash register
that is designed for the demanding needs of many small businesses. The ER-265EJ features a receipt printer as well as a detailed sales journal (Electronic Journal also known as an EJ) rather than a journal or audit tape. The SAM4s ER-265EJ is also equipped with a standard SD card slot which allows you to back up your program and reports. Easily clone additional machines in just a matter of minutes.
Here are some of the other features of the SAM4s ER-265EJ Cash Register
A fast 15 Lines per Second Thermal Printer with Drop and Print Paper Loading
Flat Spill-Resistant Programmable Keyboard with 15 Keyboard PLUs plus function buttons
Three Standard RS-232C Ports for PC Communications or External Devices
USB port and Free Programming Software
Optional Credit Card Interface including EMV, EBT and pin based debit
The ER-265EJ comes with a six month warranty with optional extended warranty options available (see below). If you want to make sure this cash register is for you please feel free to give us a call at 1-888-211-6265
Standard Warranty and Extended Warranty Options The standard warranty for this model is a Six-month depot warranty. With a depot warranty you pay for the shipping back to us for repair and we pay for shipping of the machine back to you. Every attempt is made to resolve an issue via phone before shipping a machine in for repair. Warranty periods do not include a loaner unit, however often loaner machines are available at additional expense. If you would like a longer depot warranty period, you may purchase extended depot warranties out to 54 months. You also have the option to upgrade to an overnight exchange and extend the time period. If you select an overnight exchange warranty, we will overnight you a replacement register at our expense as well as paying to ship the broken machine back. You can purchase an Overnight Exchange Warranty out to 5 years. Overnight exchanges do not include Saturday deliveries, so as an example if you request an exchange on a Friday you will receive the replacement on Monday. Replacement request must be received in our office by 11am PST or the machine will ship out the next business day.