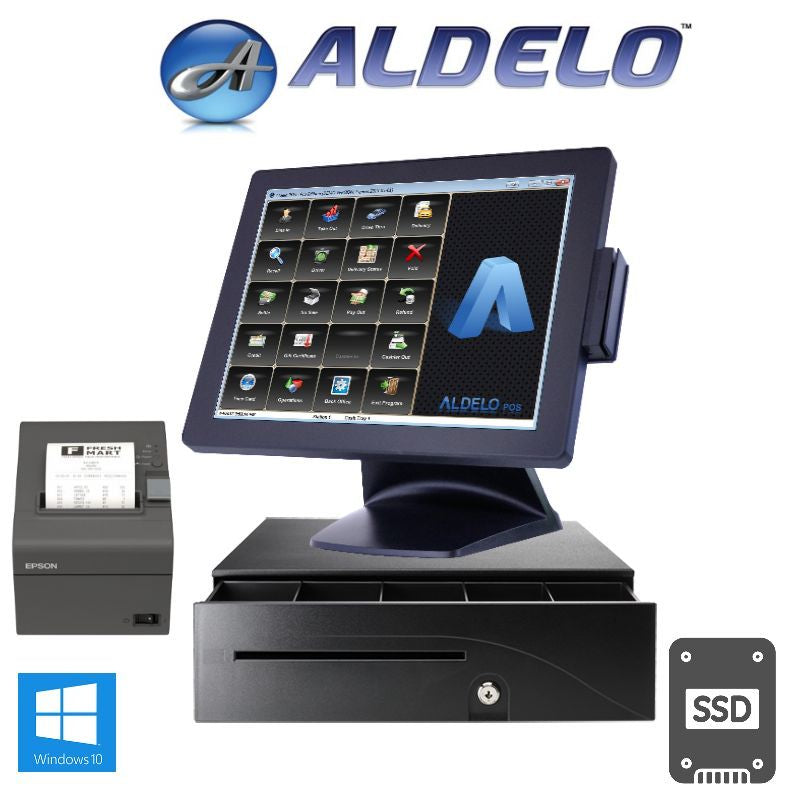 NEW ALDELO POS BAR/DINE IN RESTAURANT POS SYSTEM I3/4GB RAM w/Kitchen Printer
KAL-TECH will beat competitor's pricing!
Call Now For Help: (888)-211-6265
Complete Aldelo POS Restaurant Station System
1 - NEW ALL-IN-ONE POS COMPUTER:
Intel Core I3 Processor
120GB, SSD SATA
4GB RAM
Windows 10 Pro
15" TOUCHSCREEN

1 - Aldelo PRO for Restaurants Brand New, Never Registered.

UNLIMITED SUPPORT & TRAINING!

FREE Credit Card Processing Software & Integration (requires approval) a $1250 Value

This is a non returnable and non refundable product, please contact us before buy in order to receive a free demo for evaluation purposes.


1 - NEW Epson USB Thermal POS Printer
8 Dots-mm
72mm Print Width
100mm-sec Print Speed
External Power Supply
Autocutter
Color: Black

1 - NEW Cash Drawer 16 x 16 Printer Driven Black
Color Black
Steel Chassis
Money Tray 5 Bills/6 Coins
Removable Coin Compartment/Contains 3 Adjustable Divisions
Bills Holder
24v. Solenoid
Micro-Switch
Overall Dimensions 18 x 16.7 x 4.2 inches
RJ-12, Universal Cable for POS Printer Cable Included
3 Standard Positions
2 Year Warranty


ABOUT ALDELO POS 
Ideal POS Solution for Table Service & Quick Service Restaurants

Aldelo For Restaurants Pro Edition is a low cost, feature rich and easy to use total restaurant management software for table service and quick service restaurants.

Aldelo For Restaurants contains the feature set to support any restaurant environments. Whether your restaurant is a coffee shop, a steak house, a bar & grille, a pizza restaurant, a cafeteria or any other food service establishments, our solution can help streamline your operations by custom tailor to your requirements.

Reliable Solution Proven in the Industry

Aldelo For Restaurants is well received in over 20,000 installations around the world due to its flexibility, ease of use and completeness. Additionally, our solution is Microsoft Windows verified since 2003.

Feature Complete & Easy to Use

Aldelo For Restaurants does not require its users to know about computers in order to use it. In less than a few minutes of tutorial, your staff will be able to start using Aldelo For Restaurants like a pro.

You will greatly reduce staff training expenses with our user friendly screen designs. Best of all, Aldelo For Restaurants is a complete package with POS, Hostess, CRM, Inventory, Labor Control and much more, all included without additional charges.

Key Product Features

100% Touch Operated Point of Sale
Visual Floor Management
Complete Hostess Features such as Reservations, Waiting List & Guest Paging
Advanced CRM such as Gift Card, House Account, Frequent Buyers
CallerID Integration, MapPoint Integration, Coin Dispensor Integration
Labor & Scheduling Management
Menu Recipe Control & Complete Inventory Management
Payment Processing Integration
One Touch Order Split & Combine
Multiple Check Tender Support
Multiple Kitchen Routing Destinations
Ready for Online Food Ordering Integration
Ready for Kitchen Display Integration
Ready for Fingerprint Authentication Integration
Ready for Liquor Dispensor System Integration
Ready for Hotel/Resort Room Charge Integration
Extensive Management Reports
And much more all included in the standard package!
Simplify Daily Management & Streamline Operations

Aldelo For Restaurants is a solution that may dramatically streamline your daily operations, retain guest loyalty and increase repeat business.

In the world of complex restaurant operations, simplify is the key to your success. Aldelo For Restaurants is designed to help you simplify operations and maximize efficiencies.

Main Menu Screen
Aldelo For Restaurants enables you to access key features with the touch of a button. Best of breed technologies and functionalities are incorporated into Aldelo For Restaurants to help you simplify and maximize.

Table Service POS Screen
Aldelo For Restaurants has extensive features to handle even the most demanding Table Service Restaurants. You can manage tables, perform order splits & combines, apply gratuity, track guest count & control every aspect of order entry process with ease

Quick Service POS Screen
Aldelo For Restaurants is also great for Quick Service Restaurants. Features such as flexible configuration options allow you to custom tailor to any quick service requirements. Best of all, our solution gives you maximum flexibility by allowing you to mix and match table service and quick service POS in the same establishment.

Visual Table Layout Screen
Aldelo For Restaurants has easy to use visual floor management features. Our visual floor management allows your staff to work as a team in order to provide better customer service and increase repeat business.

Hostess Floor View Screen
Aldelo For Restaurants comes with advanced hostess and guest paging features out of the box. You will be able to create reservations, manage waiting lists, track guest preferences, inform waiting customers with guest paging and much more.

Split Order Screen
Splitting orders in Aldelo For Restaurants is easy and fast. Our intuitive split screen allows you to perform split functions in no time. Just point, touch and its done.

Modifier Builder Screen
Aldelo For Restaurants handles both simple and complex menu items with ease. Whether the menu item needs just one touch to order, or those that need complex instructions, your staff will be able to enter orders much faster and more streamlined.

Order Settlement Screen
Aldelo For Restaurants allows your customers flexible tender options. All tenders are tracked for accuracy and accountability. No longer will you need to worry about lost revenue from missing checks.

Back Office Screen
Aldelo For Restaurants places all pertinent management and analysis functions within reach. Access to sales trends and statistics are available with just a simple touch of a button. Menu changes is as easy as point, click and type.

MapPoint Integration Screen
Aldelo For Restaurants enables your delivery drivers to provide efficient delivery service with detailed turn by turn instructions and optimized route planning. Our solution helps you deliver food faster without wrong turns or inefficient routes.

Pizza Builder Screen
Aldelo For Restaurants has great support for pizza restaurants. Our pizza ordering screens are optimized for both speed and efficiency. You can apply pizza topping and crust type with just the touch of a button.




Important Information
FREE Shipping shown only applies to lower 48 states. (US Continental) Shipping charge to Hawaii, Puerto Rico, Alaska will add additional cost to the shipping price .
On occasion, we temporarily run out of stock for a particular item that is regularly in stock. This dramatically increases the time it takes to ship your item. If your item is back ordered, we will send you an email notifying you of this. You have the option to wait until stock arrives or a full refund right away. We try to allocate your item from multiple locations. If we're unable to complete your order, we will send you an email and issue a refund. Please do not leave negative feedback as we strive to fulfill every order. If the item is a special order item, you will be advised on the delivery lead time.